INSTALLATION

The priority of our company in the first place is the safety of our valued customers. A Thorough study and evaluation will be done to provide the best types of elevators to suit your needs and to achieve permanent comfort for you.
To prevent you from making future updates and modifications of your elevator our Technical Team will offer you a range of different designs and ideas for your elevator.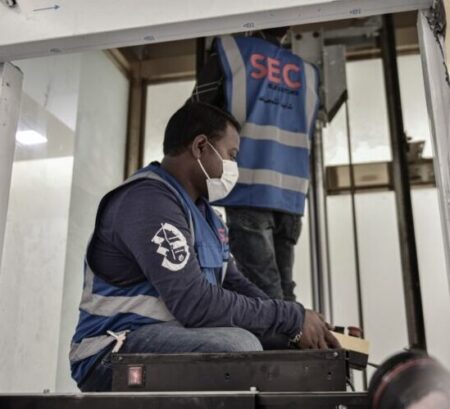 Installation Prices

( The prices of our elevators start from 2900 KWD , three floors in one direction )
( with the following specifications )
1- Machinery (6, 8, 10 hp) Italian and Turkish .
2-Cabins sizes start from 100 * 110 to all sizes and all types, Formica with stainless and stainless steel corners, silver and gold .
3-Supply and installation of regular optical cells and length of doors.
4-Installing a normal and hydraulic anti-collision .
5-Doors are dyed with Hummer dye type, all colors are on request, and in plain and decorated stainless steel .
6-Installing all sizes of doors .
7-Installing an ARD battery to connect the elevator to the nearest floor, upon request.
- A 10-year warranty on the elevator, provided the maintenance contract continues .
•Payment method :
(35%) down payment upon contracting.

(35%) first stage payment.

(25%) second-stage batch.

(5%) payment upon receipt